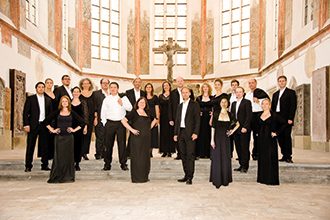 Founded in 1994, ensemble cantissimo is one of the most sought-after vocal ensembles in the German-speaking world. The name speaks for itself: cantissimo is synonymous with a cappella singing. Along with the usual performances of older music, a primary interest has always been the discovery of unperformed music that lies outside the regular repertoire. With its distinctive interpretations and exciting choice of programs, the choir, with singers from Germany and Switzerland, conducted by Markus Utz, has thrilled audiences and critics alike. Regular invitations to leading music festivals and a close collaboration with radio stations reflect the high regard the ensemble's vocal artistry is held also feature on cantissimo's numerous CD recordings.
These include sacred works by Mozart's teacher Giovanni Battista Martini (2007) and the Marian cycle Mater Dei by Freiburg composer Franz Philipp (2008) produced in collaboration with the Southwestern German Broadcasting Corporation. A co-production with the Bavarian Broadcasting Corporation, "I Himmelen", with Scandinavian choral music was released in 2010. Between 2011-2014 the ensemble Stuttgart produced 3 CD's for Carus-Verlag with first recordings of the choral works of Heinrich von Herzogenberg, a contemporary of Brahms. In 2016 was the CD "War Dreams" with works of Byrd, Wadsworth, Schönberg, Eissler, Pärt and others released. And recently the CD "Mensch, werde wesentlich" (human being, get essential) was published as a homage to the sacred works of the Swiss composer and philosopher Adolf Brunner.
www.cantissimo.de
Markus Utz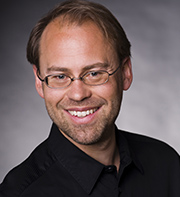 Markus Utz has been a professor of conducting and choral directing at the University of the Arts in Zurich since 2007. From 2001 to 2008 he served as music director of the Constance Cathedral, where he still continues working as an organist. He studied in Munich, Detmold and Stockholm with Gerhard Weinberger, Anders Eby, Stefan Parkman, Eric Ericson, and others. He has competed successfully as an organist and has also received conducting grants from the Scandinavian Bach Academy, the German Academic Exchange Service (DAAD), and was a finalist in the 2003 Eric Ericson Award.
One of the most successful young German choral conductors of today, both in Germany and abroad, Markus Utz has established a formidable presence in the music world with his ensemble cantissimo and is noted for performances that are both refined and full of character. In addition to his activities as professor and organist, he has been invited to teach courses and serve on juries in the United States, Sweden, Italy, France, Germany, Israel, and Switzerland. He has also guest conducted many well-known choral groups.