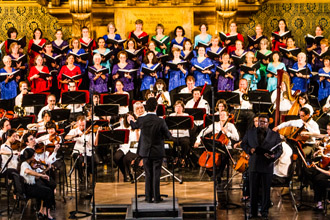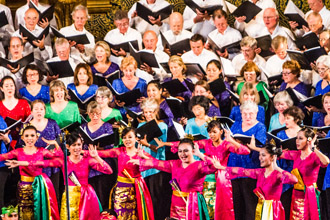 The Yale Alumni Chorus Foundation, Inc. is a Member-based charitable foundation, born of the joy of singing and deeply committed to the idea that we can change lives through the universal language of song. We love to sing together, and our domestic and international musical outreach activities certainly change lives for the better. We are, in a very practical sense, "Ambassadors of Song". Our Chorus often performs without charge to our performance and community service partners; we usually contribute ticket receipts to support local charities or musical interests; our appearances and other outreach activities are, in fact, our Gift of Song to the communities we visit.
Originally, in 1997, we were the Yale Alumni Chorus – formed somewhat experimentally to undertake an unprecedented tour to perform classical music with some of the leading symphony orchestras in China. That initial two-week tour, involving a chorus of some 180 singers from 30 U.S. states and nine other countries, was an unprecedented success musically and in many other human dimensions. For many of us, it was life changing and rejuvenating in itself. And, from our shared experiences, we began to understand the power of musically-based intercultural exchange. An exchange concert with the Xi'an Normal School proved important not only to us, but also to the remarkably talented Chinese student performers. Later on during that wonderful day in Xi'an as we shared a meal and more music from both countries, the concept of ourselves as "Ambassadors of Song" was solidified.
In 2001, the Chorus undertook a second major international tour, this time to Russia, Wales, and England to celebrate Yale's Tercentennial. We sang well-received concerts in St. Petersburg with the Kirov Orchestra at the Mariinsky Theatre, and in Moscow with the Moscow Chamber Orchestra at the Moscow Conservatory. We performed the honorary opening concert at the 55th Annual International Eisteddfod in Llangollen, Wales. And we presented a triumphant concert with the Royal Philharmonic Orchestra in St. Paul's Cathedral in London.
But again, for all of the musical excitement and successes, it was our increasing involvement in "outreach" activities that made the tour distinctive. In St. Petersburg, for example, we hosted a wonderfully festive dinner with the outstanding Smolny Cathedral Choir, which was suffering financially in post-Soviet Russia. In Wales, we honored Yale founder Elihu Yale at his gravesite in the town of Wrexham, and then produced a memorable Fourth of July or "Interdependence Day" Picnic on the church grounds for all the people of Wrexham. Yale Alumni Chorus members found it ever more important to establish meaningful connections with the people we met in our musical travels.
Following our initial international touring successes, it was clear that the Chorus was a phenomenon in need of more formal organization. In 2003, we formally established the Yale Alumni Chorus Foundation, Inc., and were promptly granted official recognition as a 501(c)(3) charitable organization for U.S. tax purposes. The Foundation's Board of Directors sets Foundation Policy and engages in oversight of the entire enterprise to ensure that established policy is followed.
Operating now under the auspices of the Foundation, the Chorus visited Moscow once again in early April 2003. We were invited by the Russian Administration to become the first U.S. chorus to appear in the State Kremlin Palace, performing "Russian Patriotic Songs of the Great War" with international opera star Dmitri Hvorostovsky and the Philharmonia of Russia under the baton of Constantine Orbelian. This moving event was broadcast to a Russian television audience of 98 million. At a post-concert reception, the Russians expressed their deep appreciation to the Americans for having traveled so far in times of great international turmoil to perform songs so dear to them in their native language.
As it happens, the U.S. Ambassador to Russia at the time was a Yale graduate, Alexander Vershbow '74. He sang with the Chorus at the Kremlin and hosted a concert and reception for the Moscow diplomatic community at his official residence, Spasso House.
Later, to complete the international collaboration, we joined the Philharmonia of Russia in October 2003 to celebrate the Centennial of Armenian composer Aram Khachaturian with concerts at Carnegie Hall and Yale University. The Foundation hosted the Philharmonia in New Haven for several days which featured a festive musical dinner for our guests, seminars on Khachaturian's musical legacy, master classes by Maestro Orbelian, and the world premier of Peter Rosen's Film, "Khachaturian."
In the summer of 2004, the Chorus undertook the Gift of Song Tour to Brazil, Argentina, and Chile, where we performed with major symphony orchestras in major concert venues in Salvador and Rio de Janeiro in Brazil, in Buenos Aires, and in Santiago. In the course of this tour, we founded and funded a vibrantly-successful youth chorus in Rio's Cidade de Deus, the notorious City of God shantytown depicted in the Oscar-nominated film of the same name. This chorus provides ongoing productive opportunities to children at risk in one of the most challenging communities on the outskirts of Rio. We shall never forget these children, and it seems safe to imagine that they may never forget us! Later, in La Plata, Argentina, the Foundation sponsored a choral festival of eight Argentine choruses that trace their origins back to a Yale Glee Club tour in 1941 undertaken at the request of the U.S. Department of State. And in Chile, the Foundation provided Spanish-language teaching resources for public school music teachers throughout the country and sponsored a memorable singing exchange with many school choirs from Santiago.
The Foundation's outreach program is active in the U.S. as well. We sponsor a youth chorus at the extraordinary Amistad Academy, a charter school in New Haven, Connecticut. And we have funded a music appreciation program at the O'Gorman Center, an inner city education facility for young children in Harlem, New York.
Historically, the magic of our Chorus preceded the Foundation. And now that same magic energizes a Foundation engaged in a broad range of activities—all related to our mission of promoting international harmony through choral music.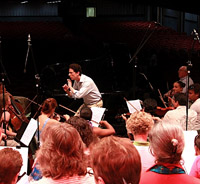 Jeffrey Douma is the Director of the Yale Glee Club, Yale's principal undergraduate mixed chorus, and Professor of Conducting at the Yale School of Music.
Douma has appeared as guest conductor with choruses and orchestras on six continents, and has prepared choruses for performances under such eminent conductors as William Christie, Valery Gergiev, Sir Neville Marriner, Sir David Willcocks, Krzysztof Penderecki, Nicholas McGegan, and Helmuth Rilling. He is also currently Musical Director of the Yale Alumni Chorus, and served for five years as Choirmaster at the Cathedral of St. Joseph in Hartford, where performances ranged from Bach St. John Passion with baroque orchestra to Arvo Part's Te Deum.
An advocate of new music, Douma has premiered new works by such composers as Bright Sheng, Jennifer Higdon, Dominick Argento, Ted Hearne, Vytautas Miskinis, Rene Clausen, Jan Sandström, Lee Hoiby, and James MacMillan, has established two competitions for young composers, and is editor of the Yale Glee Club New Classics Choral Series, Boosey & Hawkes. His original compositions are published by G. Schirmer.
A tenor, Douma has appeared as ensemble member and frequent tenor soloist with the nation's leading professional choirs, including the Dale Warland Singers, Oregon Bach Festival Chorus under Helmuth Rilling, and Robert Shaw Festival Singers. A former conducting faculty member at the Interlochen Center for the Arts, he appears frequently as clinician and guest conductor for festivals and honor choirs. Douma served previously on the conducting faculties of Smith College and Carroll College. He holds the Bachelor of Music degree from Concordia College (Moorhead, MN) and the Doctor of Musical Arts degree in conducting from the University of Michigan.