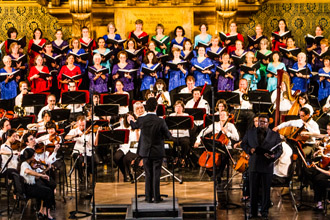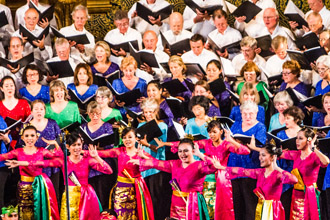 Founded in 1997 by alumni of the Yale Glee Club under the organizational leadership of Mark Dollhopf '77, the Yale Alumni Chorus has embraced the mission of promoting harmony through choral music both at home and abroad. As "Ambassadors of Song," the group strives to build international understanding through the universal language of music.
The group's first concert tour, in 1998, was a two-week tour of China. This was so successful that in 2001 a second tour was made to celebrate Yale's 300th anniversary. The group sang concerts in St. Petersburg with the Kirov Orchestra and in Moscow with the Moscow Chamber Orchestra, and performed the honorary opening concert at the 55th Annual International Eisteddfod in Llangollen, Wales. YAC also presented a concert with the Royal Philharmonic Orchestra in St. Paul's Cathedral in London. In 2003, YAC became the first American chorus to appear in the State Kremlin Palace in Moscow, performing with international opera star Dmitri Hvorostovsky and the Philharmonia of Russia.
In 2004 the group toured Brazil, Argentina, and Chile; highlights of this tour included YAC's founding of a successful youth chorus in Rio de Janeiro's notorious "City of God" shantytown, and the group's sponsoring of a choral festival of eight Argentine choruses that traced their origins back to a Yale Glee Club tour in 1941 undertaken at the request of the U.S. State Department. YAC has since traveled to the United Kingdom and the Netherlands in 2006, to South Africa in 2007, to Mexico and Guatemala in 2009, to Cuba in 2010, to Turkey, Georgia, and Armenia in 2011, to Estonia, Latvia and Lithuania in 2013, to Washington, DC in 2014, and to Vietnam and Singapore in 2016. During the intervening years YAC helped launch the Yale International Choral Festival in the summers of 2012 and 2015. The group's members organize community service projects in conjunction with almost every concert, and YAC itself continues to provide funding support for a number of student choirs around the world — including the Jerusalem Youth Chorus, which brings together Israeli and Palestinian teenagers who love to sing.