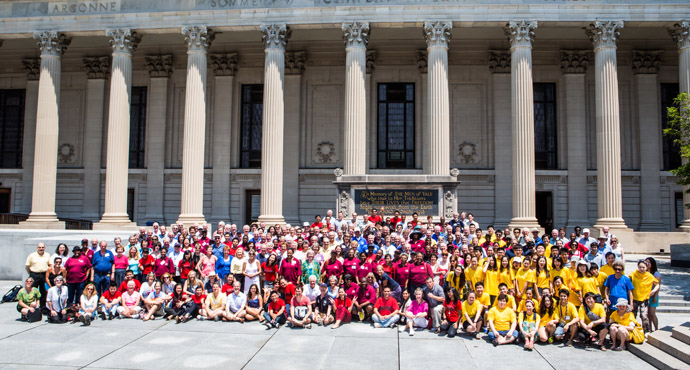 In June of 2015, the Yale Glee Club will host the second Yale International Choral Festival, an event produced in collaboration with the Yale School of Music, the International Festival of Arts & Ideas, and the Yale Alumni Chorus, continuing an exciting new chapter in Yale University's long tradition of international choral exchange.
The festival will take place June 16-20, 2015. Outstanding choirs from throughout the world will come together for five days of singing, learning, and exploring the connections that choral music fosters between people. Each evening will feature a formal concert in Yale's renowned Sprague Hall, and each day will be filled with lectures, workshops, and masterclasses led by visiting conductors and Yale faculty, including the first Eric Ericson International Choral Centre Conducting 21C masterclass offered outside of Stockholm.
If you would like to register to sing at the Festival with the Yale Alumni Chorus, please click here (no previous experience with this chorus necessary).
All others may register here.
Ensembles in 2015 will include Sweden's Voces Nordicae, Cuba's Entrevoces, the National University of Singapore Choir, and the Jerusalem Youth Chorus, along with the Yale Choral Artists and the Yale Alumni Chorus.
Tickets for all concerts are available through the International Festival of Arts & Ideas. The Gala Final Concert on June 20 in Woolsey Hall is free and open to the public.
Live streams of our concerts are available through the Yale School of Music
A symposium entitled Choirs Transforming Lives, organized in association with the International Federation for Choral Music's Conductors Without Borders network and the American Choral Directors Association's International Conductors Exchange Program, will take place on June 16, the first day of the festival. The symposium will explore the ways in which people throughout the US and the world are using choral music to create positive social change, promote mental well-being, and foster community.  Film from our first symposium in 2012, entitled Choirs Transforming Our World, can be viewed on this website.