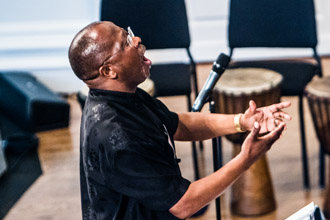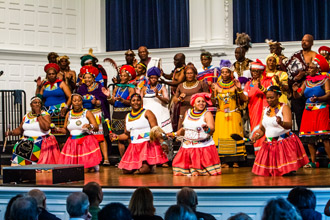 Where does one start to describe this long established institution? We have come along way since 1982! We are proud to say that at its inception the Choral Society took a deliberate stance to contribute towards the fight against apartheid through Choral music. With a carefully selected repertoire as you will experience tonight, the range is wide and varied from traditional to contemporary African Classical items.
We have been fortunate as a group to be invited to several countries overseas and in Africa. Under the Music Directorship of George Mxadana we have been privileged to visit Austria, Canada, Germany, United Kingdom, Malaysia, Reunion Islands, France, Wales, United States of America, Switzerland, Botswana, Zimbabwe and Swaziland. We have been true ambassadors for our beautiful country.
We have performed at world events including state visits and sporting events. Not forgetting the presidential inauguration of the world icon Nelson Rolihlahla Mandela and his successor president Thabo Mbeki. We were also privileged to sing at the enthronement of Nobel Peace laureate Archbishop Desmond Tutu.
The members of the Choral Society are not professional singers but come from various backgrounds and professions. Only the Music Director has had formal training in music. This skill has been transferred to most of its membership with age groups ranging from mid 20's to early 70's.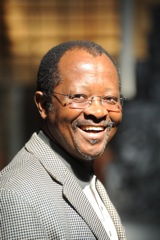 Rated amongst the highly celebrated conductors and Music Directors in the South Africa,
George Gobingca Mxadana
has recently been bestowed with the Order of the Ikhamanga in Silver, a national Order bestowed by the President of South Africa to its citizens and eminent foreign nationals. The Order of Ikhamanga was awarded for his excellent achievement in the field of music and contributing to the development of choral music in South Africa. As an esteemed member of the Order George Mxadana is entitled to use the post nominal letters OIS.
Indeed an esteemed member of the broader community, he is also a member of the Liturgical Committee of the World Council of Churches, Directing special events featuring African Liturgy as well as serving in the All Africa Conference of Churches.
George Mxadana has a long list of established credits under his name too numerous to count. A typical Soweto born and bred George Mxadana has a unique musical diversity as a trainer, instrumentalist and conductor having worked with the best conductors in the world.
A founder, conductor and Director of Imilonji Kantu Choral Society since 1982, George remains committed to the development of South African Arts and Culture and the uniqueness of the musical legacy.
Under his tutelage at the Ihlombe Workshops, he will together with members of the Choral Society share insight into the relationship between choral singing, dancing and drumming. A unique experience!