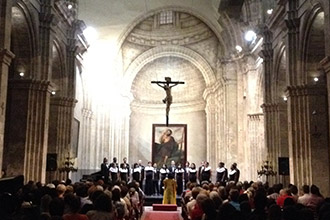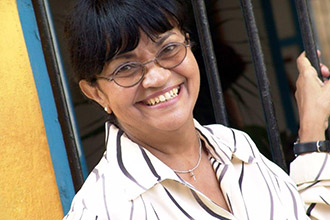 Founded in 1981, Coro Entrevoces is known for their unparalleled performances of music of all periods and styles, including everything from Spanish, English, and Italian Renaissance polyphony to contemporary music, spirituals, Latin American and Cuban folk music in general. As the pride of their homeland, Entrevoces has appeared in the most prestigious halls in Cuba, and acted as goodwill ambassadors on an international level. They have been recognized as a member of the Cuban Diplomatic Corps and recorded the anthem of the Cuban delegation to the 2000 Summer Olympics in Sydney, Australia.
In addition to renown in their home country, Coro Entrevoces has gained international acclaim through appearances at various festivals and competitions. Notable performances include for Mass in St. Peter's Basilica at the Vatican, Mendelssohn's Elijah under famed German conductor Helmutt Rilling at the 2000 Oregon Bach Festival, at the UNESCO headquarters in Paris in 2000, and participation in the World Choral Symposium in Minneapolis, MN in 2002 and in Kyoto, Japan in 2005.
Various competitive appearances in Germany, France, Belgium, Spain, and elsewhere have resulted in resounding reviews and awards for Entrevoces. They received 1st Price in the Chamber Choir category at the International Choir Competition in Masmechelen, Belgium, 1st Prize in the Vocal Jazz category and in the Madrigals category at the Harmonie 99 choral competition in Lindenholzhausen, Germany, and at the 36th Florilège vocal de Tours international choral competition where they were awarded 2nd Prize in the Vocal Ensemble category and 3rd Prize in the Open category. In addition, their 2012 recording The Edge Wants to be Light by MDG Hummingbird received the Echo Klassik Award in Germany for "Best Choral Recording of 19th or 20th Century Music."
Coro Entrevoces is recognized worldwide for their artistic excellence. Successful international tours have taken them to France on three occasions, to Canada, Venezuela, Germany, and several appearances in Martinique and Guadeloupe. Each time the ensemble has acted as cultural exchange agents, opening the door to Cuba to the world. Performances across the world have been met by audiences and critics alike.
Digna Guerra, Founder & Conductor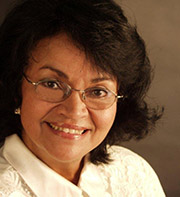 Ms. Digna Guerra has become an internationally-respected name in the choral community for her passion and artistic creativity. Her early career included degrees from the Havana Conservatory, Havana Choral School, and the Hanns Eisler College of Music in Germany. During these times she has studied under such artists and scholars as Esther Ferrer, Manuel Ochoa, Horst Müller, Eberhardt Rebling.
Ms. Guerra saw early success after being named the conductor of the Coro de ICRT in 1965 and later the Coro de la Ópera Nacional de Cuba and as technical director of the Orquesta Sinfónica Nacional. At this time she also assumed the post of professor and department chair in Choral Conducting at the Escuela Nacional de Arte.
Since 1975, Ms. Guerra has been the General Director of the Coro Nacional de Cuba and founded the chamber choir "Entrevoces" in 1981, with which she has developed cultural diffusion work in choral music of the highest level. She is currently the president of the Cuban Association of Choirs and a member of the International Federation for Choral Music. Moreover, she is titular professor at the Instituto Superior de Arte, a member of the National Council of UNEAC, and the president of the América Canta International Festival.
Ms. Guerra also maintains an active life away from her ensembles. As a solo vocalist she has performed in works such as Beethoven's Ninth Symphony, Vivaldi's Gloria, Pergolesi's Stabat mater, Michel Legrand's Concerto Oratorio, and Mikis Teodorakis' Canto General. Her curriculum includes two publications: El Canto and El Director, with the latter volume serving as a reference work for specialists in choral conducting. She is also in high demand as a clinician, leading workshops and courses in Jamaica, Barbados, Nicaragua, Peru, Curaçao, Colombia, Venezuela, Mexico, Spain, Yugoslavia, Poland, France, Sweden, Norway, the Canary Islands, and the United States.