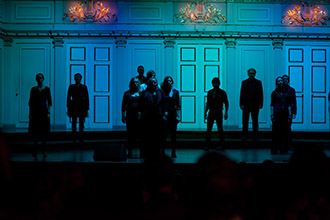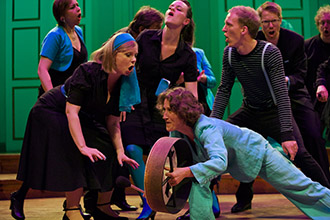 Voces Nordicae is a Swedish vocal ensemble, founded in Stockholm by Lone Larsen in 1999. Over the years the ensemble has attracted professional singers from various choral backgrounds, who all share a desire to create a new approach to choral music and concert presentation. With theatrical means of expression, improvisation and variation in musical genres, Voces Nordicae has developed a unique style and has come to play a leading role in expanding and renewing Swedish choral tradition.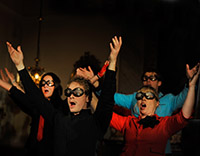 In 2008 Voces Nordicae was elected Choir of the Year by Svenska Rikskonserter, an institute appointed by the Departement of Culture (the institute was dissolved in 2010). This same year Voces Nordicae was invited to Petra in Jordan and the choral festival Aswatuna where five arabic choirs from five countries in the Middle East and Voces Nordicae from Europe worked together for understanding and peace through music and social change. During this festival the ensemble made friends with talented and warm hearted André de Quadros who has been an inspiration to further work with music and social themes. André de Quadros, Lone Larsen and Voces Nordicae have been collaborating with Conducting 21C since 2012, and working with global environment and social issues through choral music has become one of Voces Nordicae's main goals. The twenty-first century will call on all us to rethink ways in which choral music can be more connected to societal and artistic realities. Voces Nordicae will always aim to be a role model in such a reflection.
In 2015 Voces Nordicae is working with composer Kjell Perder who is writing a choir opera on climate change for the ensemble – Earth and Wind – to be performed in Paris in December 2015 during the United Nations Climate Change Conference. This also involves a collaboration with World Wildlife Fund, which is initiated during Earth Hour, March 28th 2015, in Stockholm when Voces Nordicae gives a concert in total darkness together with talented soprano saxophone player Anders Paulsson.

---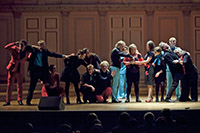 Lone Larsen
, one of Sweden's most distinguished conductors, is an innovative choral leader with a strong musical integrity. As a teacher of conducting she is a role model for young conductors and singers.
She continues to challenge existing concert forms with the aim of creating surprise and engaging the audience. Lone Larsen invites all singers to a creative, playful platform of making music. She is highly sought-after as an inspiring leader of workshops and concert projects in different countries.
Born in Denmark 1973, Lone Larsen is a music teacher educated at the Nordjysk Academy of Music in Aalborg. 1998, she moved to Sweden where she undertook a degree in choral conducting at the Royal College of Music in Stockholm. From 2005 to 2007 Lone Larsen was based in New York, where she completed additional studies at the Juilliard School of Music.
In the years 2008 and 2009 Lone Larsen was chorus master for Eric Ericson Chamber Choir and she has worked with the Swedish Radio Choir, the Danish National Concert Choir and the National Estonian Male Choir.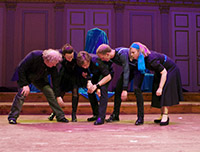 In 2008 Lone Larsen was elected Choir Leader of the Year by the Swedish Choral Directors Association.
In 1999, Lone Larsen founded the vocal ensemble Voces Nordicae, a prize winning vocal ensemble from Stockholm consisting of 16 singers. The ensemble has attracted highly experienced singers who want to find new expressions in ensemble singing and to renew Swedish choral tradition.
In Norway, Lone Larsen is the artistic director of the ensemble Vokal Nord which has a focus on music influenced by joik/sami music and baroque music. She is a lecturer in conducting at a music academy in Stockholm and continues to work with many fine ensembles.