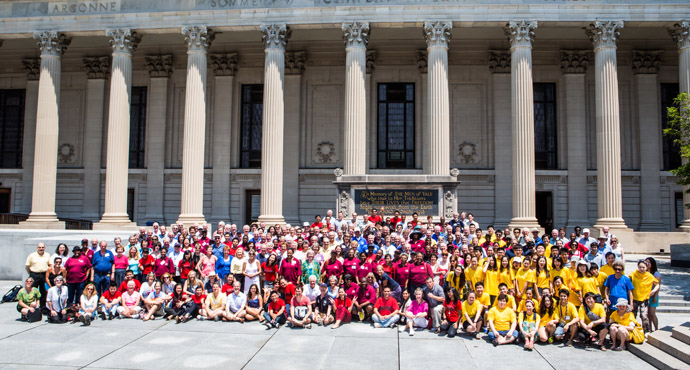 In June of 2018, the Yale Glee Club will host the third Yale International Choral Festival, an event produced in collaboration with the Yale School of Music, the International Festival of Arts & Ideas, and the Yale Alumni Chorus, continuing an exciting new chapter in Yale University's long tradition of international choral exchange.
The festival will take place June 12-16, 2018. Outstanding choirs from throughout the world will come together for five days of singing, learning, and exploring the connections that choral music fosters between people. Each evening will feature a formal concert in Yale's renowned Sprague Hall, and each day will be filled with lectures and workshops.
Featured ensembles at previous festivals include the Central Conservatory of Music Chorus, Beijing; the Cambridge University Chamber Choir, UK; the Manado State University Choir, Indonesia; the Imilonji Kantu Choral Society, South Africa; Sweden's Voces Nordicae, Cuba's Entrevoces, the National University of Singapore Choir, and the Jerusalem Youth Choir.
This year's festival will feature the Swiss/German Ensemble Cantissimo, Mexico's Staccato Coro Universitario, Muslim Choral Ensemble, Sri Lanka, and the renowned Young People's Chorus of New York City, along with the Yale Choral Artists and Yale Alumni Chorus.
It is our hope that this year's festival will be a concrete and vital demonstration of the ways in which the arts in general and choral singing in particular can help create understanding between people in a world that too often feels increasingly divided.
Please visit this site for more information about the festival in the months to come!
---
To register as a member of Yale Alumni Chorus, please visit their webpage
To attend concerts and lectures as a non-singing audience member visit the International Festival of Arts and Ideas website